(Updated 12/1/2020)
Last month I gave birth to my 8-page report on Photography Directories and Sourcebooks.
While I was researching for that blog, some of the photographers I spoke with mentioned additional directories or listings that are free or free-ish. I am happy to share these with you below.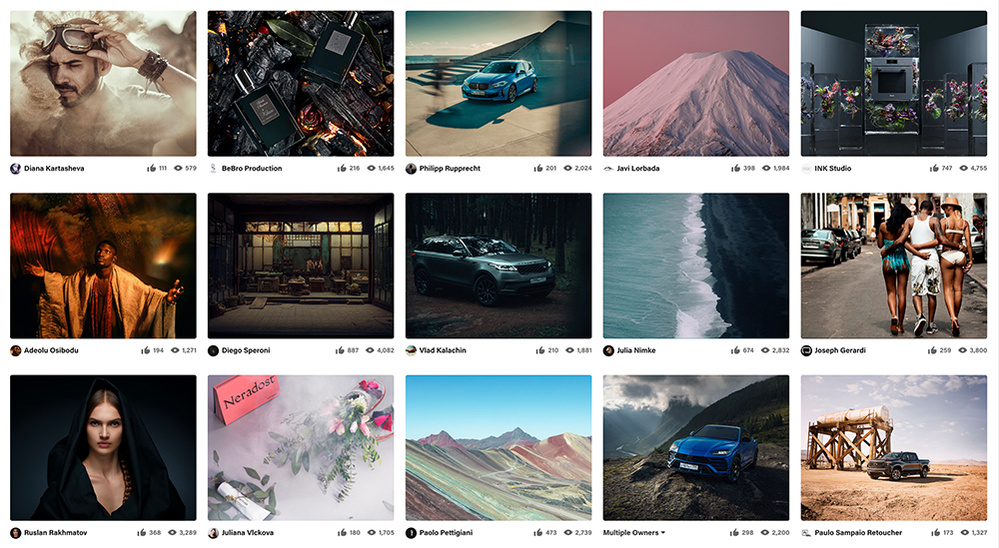 These directories may appeal to some of you who are interested in using multiple resources or who perhaps don't yet have the portfolio, budget, or desire to invest in the more traditional directories.
If we think about the Rule of 7 (the old advertising adage that says a consumer must see your product 7 times before they will buy it) which is now more like the rule of 21+ in the age of distraction, directories can be an additional tap on the shoulder to clients who might need many taps before they see you, or have a project that is the right fit for you.
Directories will rarely be more than one "tap." Your own personal, direct marketing will always be the best return on investment. That is where most of your money should be invested, in my opinion.
BEHANCE - This free project-sharing platform by Adobe might not seem like the most obvious place to share your photography but graphic designers hang out here, and graphic designers are art directors and art directors become creative directors and creative directors hire photographers, you get my point :)
KOMYOON - I mentioned Komyoon in my last blog but it's worth repeating. If you can get accepted to join, the free version may have value.

ASMP - It's not free, but for $335/year professional photographers can be listed in the ASMP Find A Photographer database. A few of the photographers I spoke with mentioned getting jobs through this listing.
PINTEREST - Not exactly a directory, but a place where creatives love to make mood boards. Pinterest is also killer (in a good way) for SEO. Pro-tip: pin images from your website (rather than uploading directly to Pinterest) to retain attribution. Also, make sure your descriptions are literal and detailed so people can find your images.
DIVERSIFY PHOTO - a directory of photographers of color. This database allows art buyers to discover diverse photographers by self-identified ethnicity, language(s) spoken and areas of expertise.
WOMEN PHOTOGRAPH - specifically for female-identifying or non-binary reportage photographers/visual journalists.
BLACK WOMEN PHOTOGRAPHERS - a directory of Black women photographers all over the world.
RECLAIM - diverse photojournalists. A collaboration between Women Photograph, Native, Majority World, and The Everyday Projects.
ALREADYMADE - Jill Greenberg's directory of female advertising photographers and directors.
F COLLECTIVE - Another directory of female advertising photographers.
GIRLGAZE - It appears to currently exist as one part creative services agency/one part job board for female-identifying creatives. It's beta and evolving from their popular Instagram account brought to you by Amanda de Cadenet, Lynsey Addario, Inez Van Lamsweerde, and Amber Valletta.
EQUAL LENS - another platform for women photographers. Inspired by Free The Bid.
AUTHORITY COLLECTIVE - womxn, femmes, trans, non-binary, and gender non-confirming people of color in photography, film, and VR/AR.
GOOGLE - Yep. The ultimate directory. I am by no means a Google analytics expert, but if you understand the game, it's not hard to amp up your SEO, especially if you are in a smaller market.
A few more that came to mind: local government/small business listings, film commission listings (some cities/states will have space for still photographers), and Yelp. Yelp can be tricky. They will pressure you to advertise with them and may mark your business as closed if you don't advertise or have any reviews. I do know a photographer who got an advertising job via Yelp, but if you are going to use it, I would line up some past customers in advance who will commit to leaving you a positive review before you jump in. You may also have to deal with managing less than five-star reviews down the line.
Do you know of any other directories that I should share? I'd love to add them to my list. Shoot me an email here.
Please let me know if you need help deciding which directories are right for your business. You can always jump on my calendar for a free call.
Hey, #ImRootingForYou!
Never miss a blog or event, sign up for my newsletter here.
Get inspired, keep up with my pro-tips, and meet some of my favorite clients and artists: follow me on Instagram @amyvcooper.